2004_02
Skylink Airport Vienna I - IV
management / design / consultancy – project documentation
P-arc, Architects
BO_CI_GR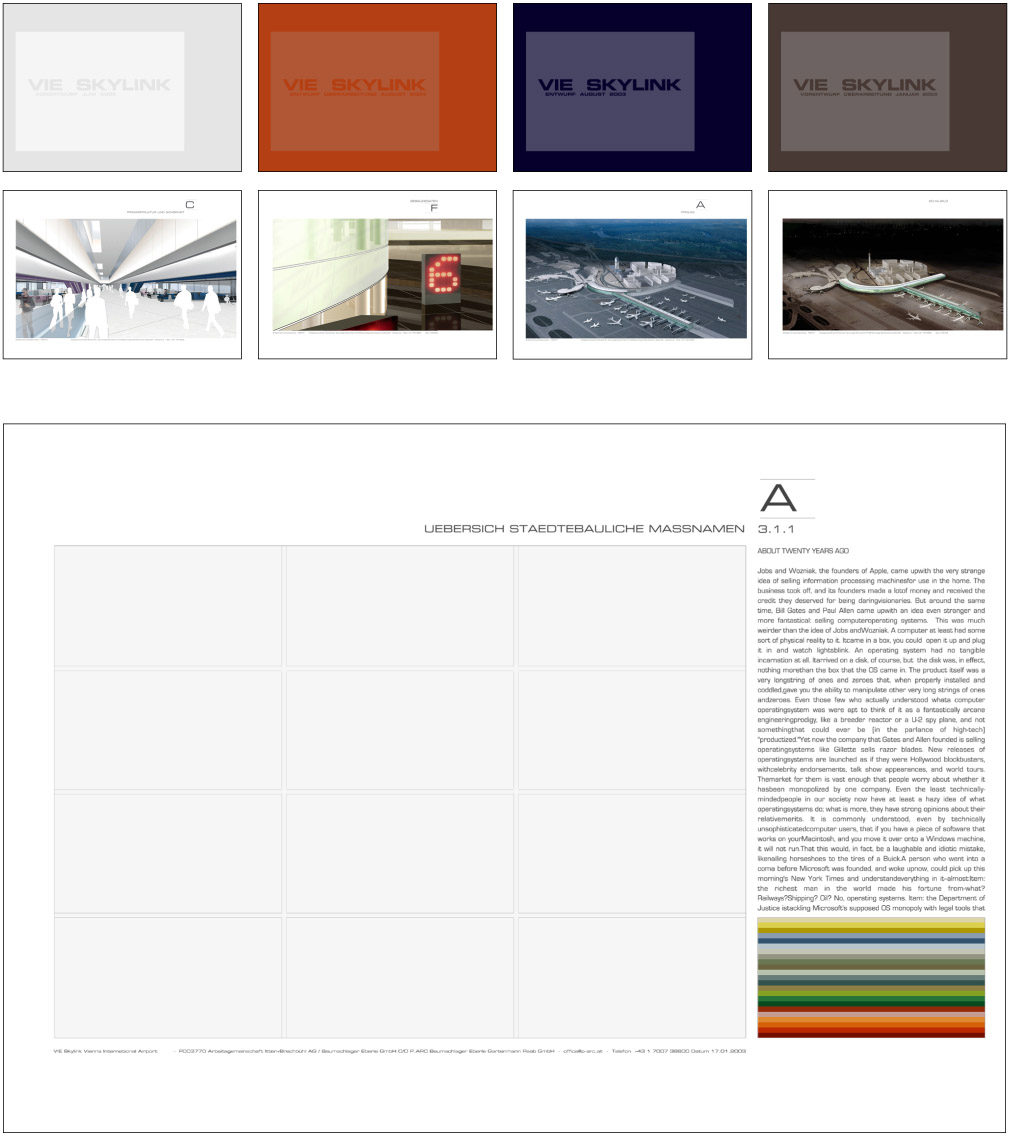 Skylink Airport Vienna I-IV 06 2002 – 08 2004 ci presentation layout &nbs book I II III IV 42x297.5cm 1book ~160 pages
Par-c architects (baumschlager eberle + ibbe) are planning a new airport for Vienna. The planning process is divided in several phases, I, II, III, IV. First together with the architects' designer Herwig Bachmann a colour scheme was developed. For presentation and documentation issues they then needed 'something'. They had specific issues:
_due the phases where within a planning process the architects themselves have to fill the content
_changes should be possible at any time during the production
_no additional drawings can be done for the book
_the drawings have to be generated in auto cad or excel
_the pages shall also work as presentation sheets between the phases, printable in the office
https://orf.at/v2/stories/2121970/2121971/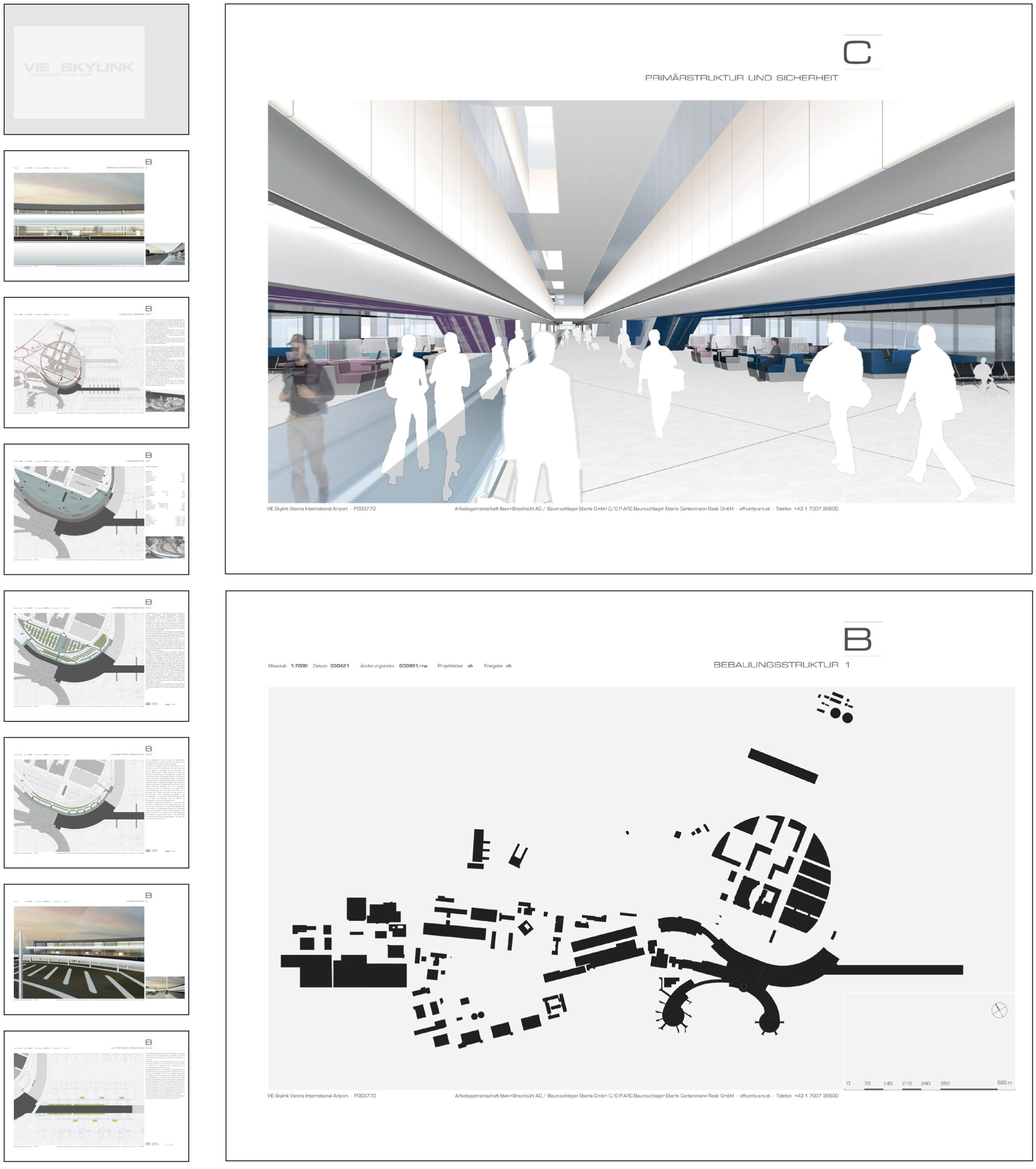 Skylink Airport Vienna I Vorentwurf Juni 2002 42x297 .5cm ~160 pages
First a colour, -stroke, -font palette, file naming and file structure was defined. The page was defined into several fields: architecture drawings, explanation text and an image representing the page
.an Indesign file was created and prepared
.all fields being filled with dummies
During the working process the architects replaced the .pdf, the .doc and .jpg files on the computer, and at the end the Indesign file was opened, all links regenerated and a printable .pdf could be generated.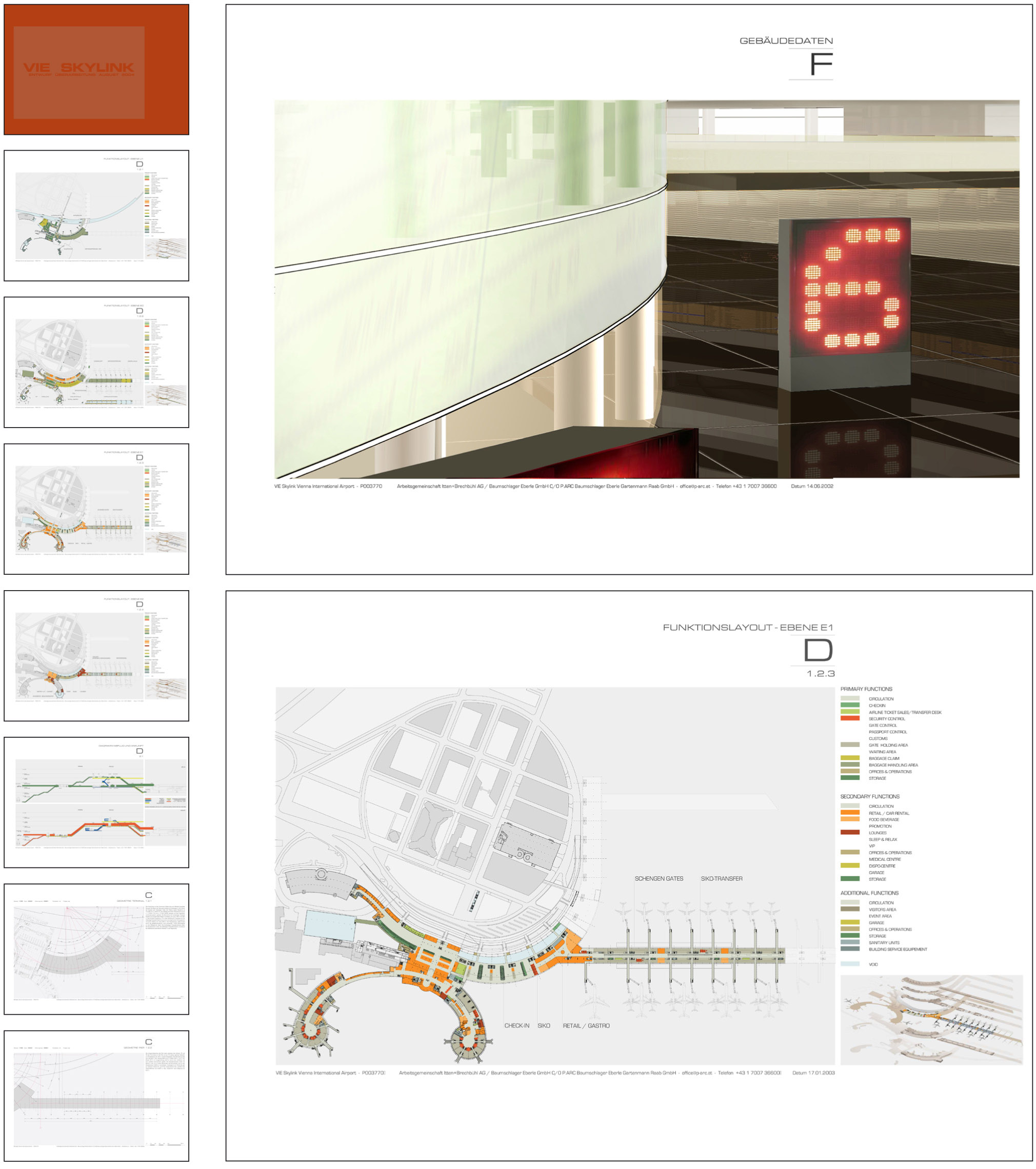 Skylink Airport Vienna II Vorentwurf Überarbeitung Januar 2003 42x297.5cm ~160 pages
The phases I to IV. The presentation package includes a book, a cd with all digital data, and a case concluding architecture plans.
Each phase gets one colour. The books and cases have a linen cover with a sticker attached in the same colour, with the cut out - logo 'vie skylink'. The design also extends to invitations or vine labels for the party after the deadline.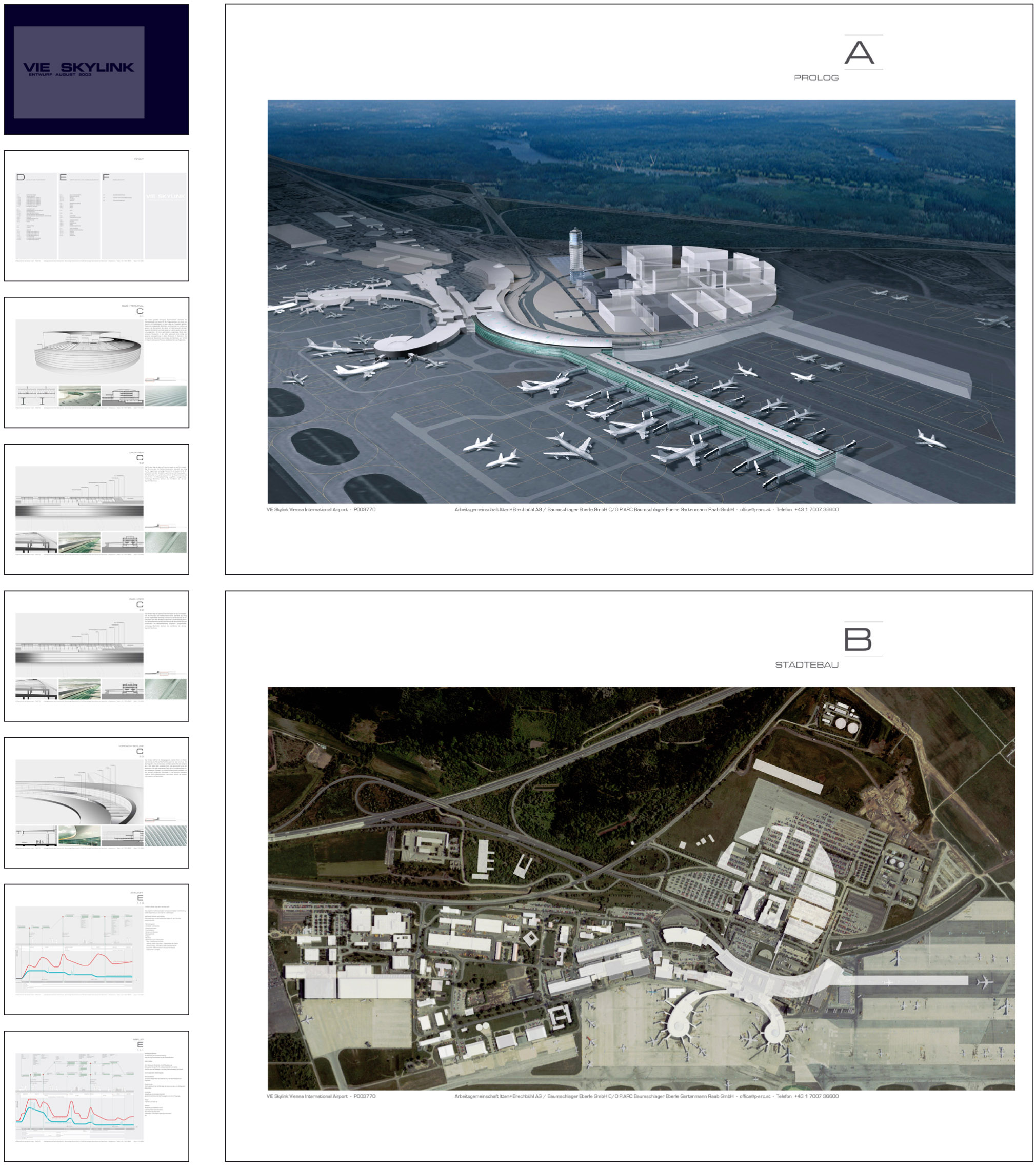 Skylink Airport Vienna III Entwurf August 2003 42x297.5cm ~160 pages
6 workshop groups where working on 6 chapters of the publication. A handbook for all project groups and ongoing reviews granted the coherence of the pages.
For the client and the architects working on the airport, these reviews where essential to check the state of the project in a compact form.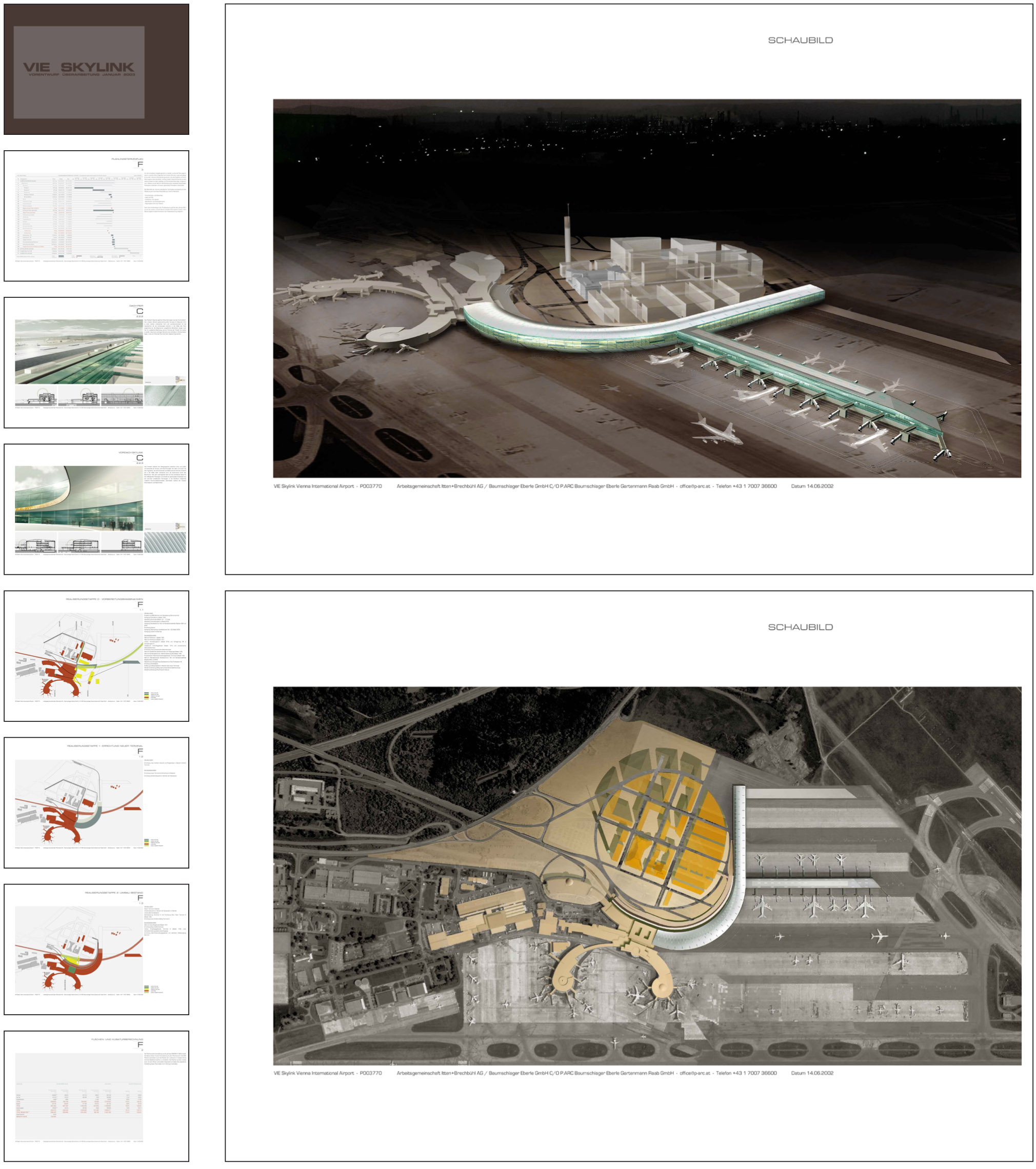 Skylink Airport Vienna IV Entwurf Überarbeitung August 2004 42x297.5cm ~160 pages
In periodical terms we worked on the books, what was very inspiring, to work with a group of really engaged architects, who where really working day and night to get these publications done.